Polish Link Sausage
Courtesy of Zilla, I had some fun reading this half-penned-by-Gaiman
article on Superman
, even if he
does
close on the exact same point that Quentin Tarrantino made in
Kill Bill 2
.
*****
Checking in on
Elk's Run
writer Josh Fialkov again, I find a really cool post exposing the intelligence and insight of series artist Scott Keating, discussing his thought process in putting together the palettes for the book, which reads (in excerpt):
The colours have a bunch of purposes. Different lighting situations, etc. Times periods. All with different qualities. ...But as it gets going, what happens is that the colours start coming together. Little bits in different 'sets'. As the more and more things start happening to the town/citizens, the color spreads to them. But not the family. So, if you look at the townsfolk in the 7th issue. They're colored as a group. They've become a single entity.
Much more at
the link
.
*****
Speaking of the Hoarse and Buggy guys, Jason Rodriguez let an announcement slip at
his Live Journal
today regarding three of his biggest guns in the
Postcards
project. It's mighty fine news, I tell ya. One fellow in particular, I just can't believe he actually nabbed this guy. A
first-time
publisher, working with... well, you'll have to look for yourself.
*****
Mark Millar is making the rounds at MillarWorld a lot lately, with some pretty fun results (sorry, Graeme). He's kinda hinted at coming close to confirming the
Preacher-on-HBO rumor
, but especially interesting reading is the
Retailers-Only Thread
, which is being pretty strictly moderated. My post asking whether it was okay for non-retailers to stop by with questions for the retailers was completely erased, providing a super-clear non-verbal answer.
Still, the retailers' comments have been great reading so far.
*****
Funny, appearances.
My old man is an opera/ballet/classical music fanatic. A lot of that stuff hasn't ever really penetrated my own listening habits, but I do some casual listening. I don't like full operas - but I love sopranos. I'm the perfect customer for those "collected romantic arias" compilation CDs that opera music publishers put together; I'm that disgusting philistine who doesn't care about the second act tenor crescendo in
Rigoletto
(that I just made up).
All I wanna hear is a pretty lady's voice.
Or, to put it more exactly, a lady's pretty voice.
'Cause, y'see, even in casual listening, I've figured out a favorite. While my old man's Favorite Soprano Of All Time is popular-choice Maria Callas: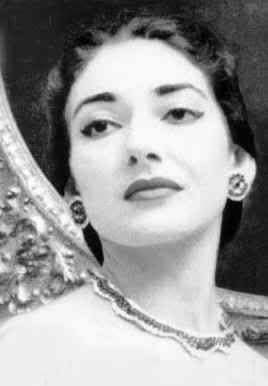 --I've generally preferred listeing to Montserrat Caballe, a punchier, more visceral and emotional singer, as I hear her: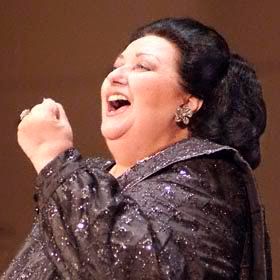 Now, honestly, take a look. One of 'em looks like a Guess model and the other looks like she'd be right at home hovering around the dinner table telling you that you need to eat more and slopping meatballs on your plate, sure. But which one looks like a singer?
That's right.
My girl Montserrat.