Children of the Grave, more
Big Newsarama day, it seems.
*****
Tom Waltz discusses
the new IDW trade collection of
Children of the Grave
, which long-time readers will remember I enjoyed back in
March of last year
. Casey Maloney's artwork has all been touched up, and as much as I enjoyed it then, I have to say it looks
really
stellar now, with the digital effects adding a lot of dimension to the scenery: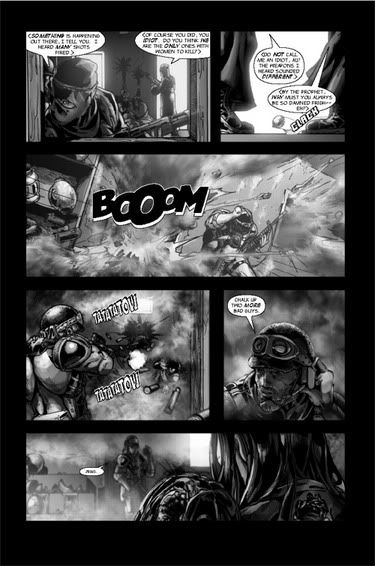 Tom also teases with the cover image to his upcoming project with Maloney, The Last Fall ("
The Last Samurai
meets
Starship Troopers
"), which looks really badass: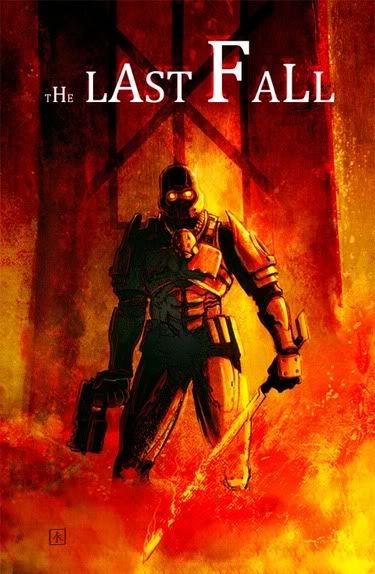 *****
I haven't read any
Scott Pilgrim
at all. But I took a look at the FCBD issue, which is posted in its entirety at Newsarama. I just looked at this page, and I think I may be sold on the series now:
I'll probably talk about the book when I finally read it... unless, of course, I don't enjoy it, in which case I'll keep my fool mouth shut.
*****
Eximious
means "really good," you see.
*****
Ooh, new Harry Crews book is out!
--and appears, already, to be unavailable. I tracked down a copy through Top 10 Website Ever bookfinder.com, but it seems they only printed like 2,000 of these. Weird. Publishers Weekly describes
An American Family
thusly:
"Set in what appears to be the contemporary South, this twisted tale of violence and passion from Crews (
The Gospel Singer
) focuses on the domestic conflicts facing Major Melton, a former marine and junior college professor. Melton's discovery of an unusual birthmark on his baby son's private parts leads him to suspect his wife of an affair and to a series of brutal episodes involving pit bulls and a hanging."
So, yeah - I'm all over it.