Ruby Thursday
Last
Friday
, I quoted Ed Brubaker's announcement that he'd renewed his exclusive contract with Marvel and that he had "an unprecedented opportunity for new projects that I'm sure will be announced very soon."
Then, just yesterday, I discovered
this interview
with Sean Phillips, wherein he is known to have said (written):
Ed and I do have a new series starting in a few months. I can't say anything until it's officially announced, but I'm really excited about it. I've already started work on it, and it will hopefully be my main project for the next few years.
To reitterate my response from last week:
!!!
*****
And again:
wow
.
I was a touch skeptical about this project after being pretty disappointed in
1601
, but this looks fucking
awesome
.
*****
Finished watching
Bukowski: Born Into This
last night, a new documentary about Charles Bukowski.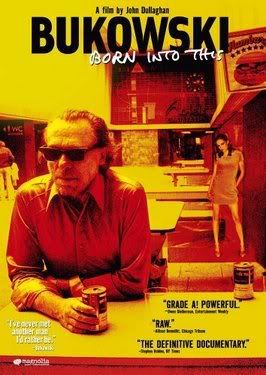 One of the best biographical documentaries I've seen, I think. The film does an amazing job making a real person out of Bukowski, who has a legacy of extremes and postures; everyone tends to think of Bukowski The Alcoholic, Bukowski The Shy Curmudegeon, The Dirty Old Man and on and on.
The film does a lot to break down these narrow descriptions of the man and actually lends nuance to his writing; I'm eager to pick up some of my old books and go through them again.
Even if you know nothing about the man, the movie is worth watching for the interviews with Bukowski's widow, Linda. She speaks with charm and wisdom and intelligence that just
shines
. Her description of Bukowski's death is one of my favorite moments on film ever. It's amazing; you almost envy the man. You're certainly left feeling that he wasn't just married to the best fuck of his life or to the only woman who'd tolerate him - he was married to the love of his life, and she to hers, and it's really nice to see that in real life, in all its subtlety and complexity, especially in a life as often troubled and bedeviled as Bukowski's.
Highly, highly recommend you take a look at this one.
...
Plus, you get to see Tom Waits read a poem, and say, "You are marvelous, and the gods wait to delight in you."
*****
I love
Jon Favreau
.
*****
It's a day for really long interviews with indie comics creating ladies I like: James used his Comic Pimp column
last week
to interview Danica Novogorodoff (whose name I will always have to copy-and-paste) of
A Late Freeze
fame, while over at Sequential Tart, Adrienne Rappaport (sometimes seen bartending at Isotope parties)
chats
with
jobnik!
creator Miriam Libicki.
Fun stuff on all accounts, but I've gotta give extra love to Adrienne for one of the best interview questions ever:
What was your favorite myth growing up (or currently) and why?
Myself? After thinking on it a minute, I'm gonna have to go with Sheherazade and the 1001 Arabian Nights. Not only did many of my favorite adventures come from her stories - the voyages of Sinbad in particular being a staple of my childhood imagination - but I always thought it was kind of a cool story, Sheherazade using the art of storytelling to save her own life and, ultimately, win over the heart of a cruel king. I've always,
always
loved storytellers, and Sheherazade is sort of the Muhammad Ali of 'em all. Funny that they were both Muslim.
*****
So,
yesterday
I posted about the new AiT book,
Rock Bottom
, right before heading to the Isotope for my weekly stash.
Larry takes me aside and asks, "Do you wanna see that Charlie Adlard art?" The answer of course being FUCK YEAH I DO. I'm flipping through the pages (gorgeous as I knew they would be, and more detailed than any Adlard work I've yet seen) and I stop because I don't want to ruin the story for myself, but Larry's too excited - I
have
to see the last page.
It's a
killer
. The premise is rad, too -
vintage
Joe Casey. Larry tells me the best parts are in the middle of the story, but the ending looks pretty goddamn awesome to me. Emotional, thoughtful, bittersweet, mythic, complex, kinda funny. All the things Casey's especially good at when he's on his A-game.
Huge
potential here; could end up being the most powerful book Larry's published.
*****
And today's final Big Ups has to go to Garth Ennis, for taking Brian K. Vaughan's often-irritating trivia-as-dialogue technique and making it not just hardcore, but potentially
amazingly
useful as well - I hope it never comes up in my life, but now I know: if I'm putting severed fingers on ice, I'd better bag 'em first or the direct contact with ice will kill the nerve endings and make reattachment impossible.
Punisher #33
: home to a brutal (and surprisingly early in the storyline) fight between Frank and the main villain of the arc, and to finger-saving advice.