Bring it on back, now
Whew, been a rough week so far. Apologies for the two-day disappearance. Let's quit bitching and get back to comics loving, though, eh?
*****
Lots of great stuff coming out this week.
"But it's kind of a light week, isn't it?"
Well, considering we're getting two of Ed Brubaker's very best
Gotham Central
story arcs in the
Unresolved Targets TP
, the final issue of
Infinite Crisis
, not just a new issue of Ennis'
Punisher MAX
but the trade of maybe his strongest arc yet (
The Slavers
), and second issues from the two best new series launches in recent months -
Mouse Guard
from Archaia Studio Press and
War of the Worlds: Second Wave
from Boom! Studios - I'd say that we're doing pretty damn well. It might not be a fifty dollar week, but how often do we really need
those
, anyway? The name of the fucking blog isn't Quantity Control.
I'm certainly a happy fucking man today.
*****
Speaking of
War of the Worlds: Second Wave
, issue the second, I've gotten an advance peek.
I
thoroughly enjoyed
the first issue, and the second issue keeps the pace. Michael Alan Nelson's script continues its high-density blend of characterization and plot development, as we learn some really chilling background information about Our Hero, Miles, who made a disastrous mistake in the first issue that left his wife dead. The opening sequence is especially chilling - having been really amazed by the emotional devastation of the first issue, I actually shuddered reading this.
The action stays fun, though I miss Matt Webb's coloring. The big moments are still nice and big - my only problem is atmospheric lighting (is it daytime? --nighttime?), and luckily that's not too prevalent an issue. Chee's large panels really convey a sense of power and danger, and the clifffhanger page at the end is a nicely terrifying moment.
Can't wait for more.
*****
Having lots of fun watching Pete bring the pain over at
The Pete Mortensen Challenge
. He's kick-started things with a full overview of DC's awesome
Solo
series and a look at the new Vertigo book,
American Virgin
.
'Course, it's just as much fun to start imagining the new Joe Casey / Charlie Adlard book that Larry Young
slipped
into the pre-Challenge conversation.
Rock Bottom
, you say? 102 pages of new Charlie Adlard artwork, you say?
Yeah, I don't really need to know much else, curious though I am. Adlard has become one of my world-champion favorite artists over the last few years, and his chemistry with Joe Casey was one of the major selling points of
Codeflesh
. I'm in.
*****
Big ups today to Doug Paszkiewicz, creator of
Arsenic Lullaby
and subject of the
very first
Quality Control review, way back in the day.
Why the mad props? Well, because he got
MAD
props. That's right, homeboy's got a strip in the new issue of Alfred E. Newman's favorite magazine.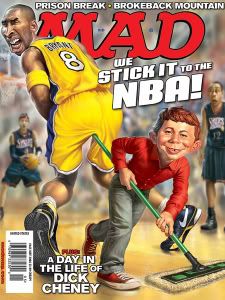 It's a strip I've read before in the pages of
Arsenic Lullaby
, but for those who've yet to work up the guts to read my favorite black humor comic, this'll make a fine introduction. Well done, Doug!
*****
So throw your hands up in the atmosphere
And let 'em know the only party that was phat was here...