Catch-Up
Holy crap, that was a wild week. Hope everybody enjoyed the worm's-eye view on this year's incredible APE show...
*****
New comics day tomorrow, yeah?
One of the books I
got to pick up
at APE and really loved was Jeremy Tinder's
Cry Yourself To Sleep
graphic novel, which is being published by Top Shelf with a perfectly reasonable cover price of seven bucks. Many of y'all might really enjoy this one.
Wait, are we really getting two
Queen & Country: Declassified
trades on the same day? I got a little lost vis a vis the difference between volumes two and three, but I'm glad to see them out anyway. They're gonna have to come home with me.
The second printing of
Mouse Guard #1
comes out tomorrow from Archaia Studio Press. This book was a wild surprise hit and lots of folks missed out on their shot to get on board. Fortunately, I asked the Isotope to set aside a copy after finding some awesome preview art; check out my review
here
and, trust me, pick this up if you missed it before.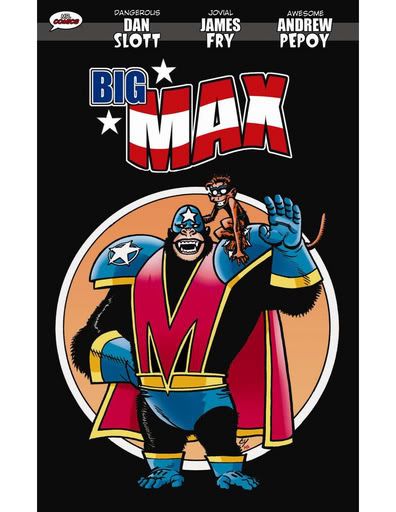 I'm psyched to see some creator-owned Dan Slott work coming tomorrow in the form of
Big Max #1
. I've talked about this
twice
before
, so I'll lay off from this point until actually reading it.
*****
July solicits are up! Hooray!
From
DC
, I'm almost exhausted - I keep trying to drop DCU books, and they keep making it harder. Grant Morrison's run with Andy Kubert on
Batman
(#655) and Paul Dini's run with J.H. Williams III on
Detective Comics
(#821) both begin in July, and I'm going to have to try them both, though I'm more excited about
Detective
. Garth Ennis has two new series launching, and while I'm a bit tired of his work with the character and will likely pass or trade-wait on
A Man Called Kev
, I'm always excited by his war books and will certainly be trying out
Battler Briton
for the promised WWII action. Bill Willingham's long-promised Fables offshoot finally begins with
Jack of Fables #1
, which I'm really curious to see, if mostly because I think the idea of Jack wandering about the world, jumping from community to community, opens up some interesting possibilities for a storyteller like Willingham. I'm sure to pick up the cheap
Exterminators
trade, after the buzz that book's been starting to grow lately, and I'm super-psyched to see another
Hellblazer
trade from Mike Carey's brilliant run.
Marvel
's taking it a bit easier on me. I'm pretty curious about the new six-issue mini
Beyond
, which seems to promise some
Secret War
-related crossover fun - given Marvel's trade collection policies lately, I'm pretty sure I can wait it out, but it sounds fun. I'll definitely be picking up Chris Eliopoulos and Mark Sumerak's
Franklin Richards: Son of a Genius - Super Summer Spectacular
, though, 'cause their take on the character (
Fantastic Four
by way of
Calvin & Hobbes
) has been thoroughly entertaining. Mike Carey's run on
X-Men
gets running with issue #188, and I'll be checking it out despite my mixed reactions to Carey's various Marvel work; he's earned a lot of faith from me. I'm also really excited to see Dan Slott's first eight issues of
The Thing
collected in
The Thing: Idol of Millions TPB
, which will hopefully draw some attention to the book.
Dark Horse
comes surprisingly strong for a month in which no issues of
The Goon
are coming. We finally get a trade collection of the BMW Films thing,
The Hire
, with stories from Busiek and Waid among others. Joe R. Lansdale's run on Conan is instead given a mini-series with artist Timothy Truman (whose work on the main series has been awesome so far) called
Conan and the Songs of the Dead
, which is especially good news since it opens the door to a bit more creative team solidarity oin the main book. Brian K. Vaughan's work on
The Escapist
is finally on my list with a $1 first issue launching "the new mini-series" (?), but that isn't even the cheapest thing they're publishing in July. That'd be
Dark Horse: Twenty Years
, a scant twenty-five cents for a book containing work from Eric Powell, Frank Miller, Mike Mignola, Cary Nord, Sergio Aragonés, Art Adams, and Joss Whedon. Plus a whole bunch of other people, apparently. I mean, Jesus: who the hell
isn't
going to buy this one?
Image
comes through with a whole bunch of my pull-list titles, including
Casanova
(following the Fell format at 16 pages of story for two bucks),
Emissary
(new home of the
Small Gods
team),
Fear Agent
(Rick Remender's best book, if you ask me),
Hysteria: One Man Gang
,
Invincible
,
The Walking Dead
and
Noble Causes
, and seems to be determined to add another title to my pull list with the third issue of
Negative Burn
in as many months, still boasting Phil Hester stories and therefore still getting my fucking money. Johnston's already pointed out that the new issue of
Savage Dragon
(#128) will be a
Wanted
crossover, which sounds like a fucking trip and a good time to try out the book again.
Umbra #2
(of 3) features Mike Hawthorne artwork and promises to ramp up the violence, which sounds cool to me given the artist's talent for fight scenes. 24seven GN is my preferred of the two 200-page anthologies Image is putting out, simply by virtue of the talent list attached (Becky Cloonan, Phil Hester, Mike Huddleston (working with Hester again, maybe?), Alex Maleev, Tony Moore, Eduardo Risso and more. Jeff Amano's
The Cobbler's Monster GN
sounds like a potentially fascinating take on the Pinnochio story, while Doug Tennapel's
Iron West GN
brings to mind Kazu Kibuishi's wonderful
Daisy Kutter
mini from a couple years ago (and reminds me: whatever happened to
Dusty Star
?), combining western scenery with robot sci-fi plotting. But what I'm most excited to see - this whole month, really - is the launch of Richard Starkings'
Hip Flask
monthly (please) off-shoot series,
Elephantmen #1
! It's been a hell of a story so far and I can't wait to see where Starkings and his various artistic collaborators go with this book. My impression is that we're looking at sort of a "Forgotten Tales of..." format, which would be pretty exciting, but I'll take whatever I can get. Looks great.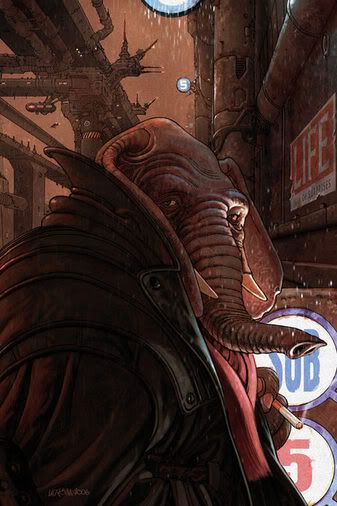 *****
Some nice love coming my way from James Sime over at his The Comic Pimp column
this week
, in which he provides his own brand of post-APE wrap-up, including a bitchin' video from his incredible APE Aftermath party, and a moment taken to reflect on his love for the show:
...it felt just like those Christmases from long ago... only it wasn't in December, and there wasn't a snowflake to be found anywhere.

It was the Alternative Press Expo. Where the Concourse Pavilion was my massive Christmas Tree and every table held gifts, folded and stapled into little packages of fascination, carefully crafted stories for me to take home and treasure.
Amen.