APE Decompression: A Late Freeze
A Late Freeze
, written and drawn by
Danica Novgorodoff
, is the winner of the 2006 Isotope Award for Excellence in Mini-Comics, and should be in retail stores
today
*.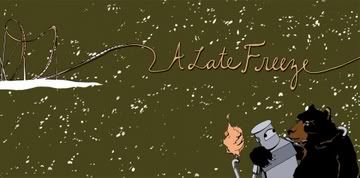 This mostly-mimed story reminds me of books like Kochalka's
Monkey vs. Robot
or some of [Norwegian] Jason's more affectionate work. It's about a family coming together in the unlikeliest of circumstances, struggling to survive in a world that won't leave them alone, suffering the consequences and ultimately keeping faith and devotion to each other.
But it just so happens, see, that the family is made up of a robot recently escaped from his factory (daddy), a bear (mommy), their baby (!!!), and an adopted frog on the run from the authorities. They all run from what haunts them and, for a while, it seems they can build their own life on their own terms, together.
Of course, living a life so free is not without its costs, and not everybody here "wins", though the book retains a hopeful, heartening feel. What really strikes me, though, is that even those whose freedom is ultimately taken from them do not give up
on each other
, and this point is driven home near the end in what for me is the most moving passage of the book, when Momma Bear takes up a job in the factory so she can rebuild her darling Papa Robot [characters named by me, not Novgorodoff]. Heartbreaking, but in that rare way that actually makes you feel
better
.
*: Edit, care of some info from the good ol' LCS; right now, most retail shops probably don't have the book. I took the listing from Midtown Comics' listing, which apparently is NOT an accurate gauge of the Diamond listing (and, I'm told, you can find copies of the book for a better price). So I'd recommend swinging by the
Isotope
, where I'm certain you can pick up a copy and a congratulations on your good taste, or else try shooting Danica an e-mail via the
contact page
on her website.