DC's section in Previews for April 2006
Today's post, different from
the last time
I talked about DC's April solicits, is based on my reading of the Previews magazine, where I was talking about the online solicits before. Thought it might be a fun experiment to see how the experiences differ.
I did this with Marvel
last Thursday
, as well. And edited the post once Neil Kleid reminded me that he's got a story with Oeming in
X-Men Unlimited #14
.
*****
As I said, I'm interested in
Man-Bat #1
for Mike Huddleston's invovlement, though it certainly helped to check out the preview pages. Anybody catch Bruce Jones' swipe of the second muder in
Identity
?
(Which, by the way, was an awesome movie.)
Still curious about
Batman: Secrets #2
, mostly to see Sam Kieth draw the Joker. The whole "the media are the true enemy" thing isn't psyching me up, but fuck it - Sam Kieth drawing the Joker.
Superman/Batman #26
probably has the highest different creators-to-page-count ratio I've ever seen. I'm into it just to see the Superman backup by Loeb and Tim Sale, who's one of my favorite artists in the biz right now.
I'm tentatively sold on
Infinite Crisis
, so I'll be picking up issue #7 to see how it all comes out. I just hope things get a bit more cohesive - right now I don't see how half the plot threads have anything to do with the main story being told, and it's frustrating me as a reader. The references are also going over my head a lot of the time (Flash got his powers from some weird "Speed Zone" or something? I thought he just got hit by lightning?), but enough cool shit is going on to keep me on board.
Jared's so psyched about
Checkmate #1
that I'll likely pick up the first issue just to avoid getting my clock cleaned.
Hard Time Season Two
is on the pull list, so I'll be excited to see where they're going with this fascinatingly creepy/confident, charming/evil new Cutter character in issue #5.
I don't know from Damion Scott, but I'll be getting
Solo #10
just because I think the series is awesome.
I'm still a bit nervy about making it
Supergirl and the Legion of Super-Heroes
, but the book hasn't let me down yet and #17 will be in my pull file.
Also, kinda neat to see that the two trades have matching layouts on the covers...
I'm following
Seven Soldiers of Victory
in the trades, so it's nice that they're bringing out volume 2 so quick.
I can't believe I'm not getting any of the WildStorm books. That used to be my favorite imprint around, what with
Sleeper
and all. Well, the revamp's coming up and I'll try to get back into it then.
Still enjoying
DMZ
, so I'll likely get #6 when it comes.
Bigby's back in
Fables #48
, they say, so I'm looking forward to that (as I do, honestly, every issue of the series).
Still happy to see a nice cheap
Loveless
trade coming so quick. Of course, the idea is to get me buying the singles, and I'm pretty commited to tradewaiting Brian Azzarello's work, but we'll see.
Oh, man. We're at
Lucifer #73
already? Jesus, this is a great series. "I hate to see you go, but I love to watch you leave," right?
I don't know that I have a place to put it at my apartment, but the image they're using for the
Fables
wall poster - James Jean's cover to issue #8 - is stunning.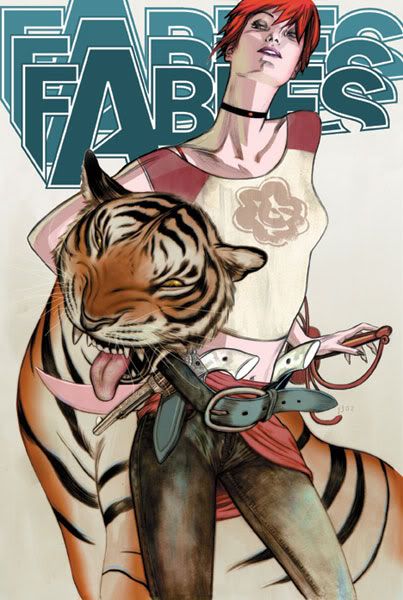 *****
Hmm. That wasn't quite as "different" as my responses to Marvel's online and print solicitations were. Well, tomorrow I start looking at Everyone Else, and believe you me, there's some awesome stuff coming. Check it out.