April solicits for Marvel and DC
So, my thoughts on the
Marvel
and
DC
solicits for April:
MARVEL COMICS
I just counted, and I'm tradewaiting about 14 Marvel series. Why? The Ultimate-line books, for example, all seem to be paced that way these days. The Fury mini-series costs $3.50 an issue, and I don't think Marvel deserves to charge me that, regardless of the talent involved. A big part of it, though, is that I know pretty much for certain the trades will come out. This is the kind of thing that drives Hibbs nuts, I know. Well, I guess it's up to Marvel to do something about it. Maybe if they give Dan Slott a few more books... 'Cause frankly,
SHE-HULK #7
and
THE THING #6
are at the top of my Marvel list. Dan Slott, see, writes monthly comics I can't turn down or tradewait. The guy knows there are trades coming out for pretty much every Marvel book - which makes it really easy to just leave the serial issues alone - so he throws all his weight into writing individual issues that are exciting and packed with story and character and humor, and usually has a fun cliffhanger at the end. They're monthly comics the way I want them done.
DAREDEVIL #84
Read my buddy's copies of the recent "The Murdock Papers" arc, and I think I'm excited about
Daredevil
again. I'll be starting up when Brubaker and Lark take over.
ANNIHILATION: NOVA #1 (of 4)
ANNIHILATION: RONAN #1 (of 4)
ANNIHILATION: SILVER SURFER #1 (of 4)
ANNIHILATION: SUPER-SKRULL #1 (of 4)
Oh, okay. That's where they were going with this. Well, I can't say I give a damn about Nova or Ronan, and I don't really know the creative teams well enough to change my mind. The Silver Surfer mini is one I'll probably check out, out of fondness for the character. The Super Skrull mini looks like it has some potential as well - bad guy versus even badder guy is a hook I usually bite - so I'll try it out. I'm curious to see, though, if there's a larger story here, or if Marvel's just trying another big event to bring in some cash.
MARVEL ROMANCE REDUX: RESTRAINING ORDERS ARE FOR OTHER GIRLS
I'm not planning on buying this, but that's a hell of a funny Kyle Baker cover.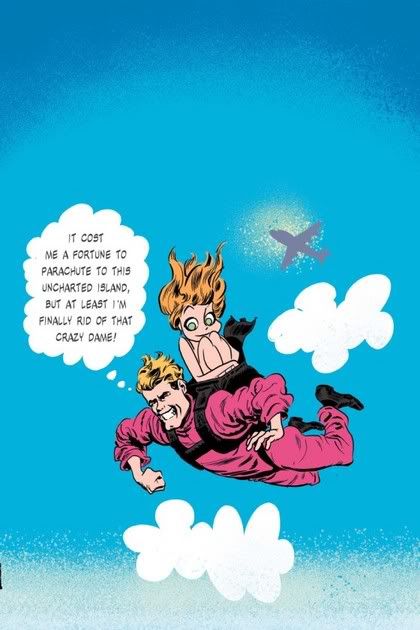 YOUNG AVENGERS VOL. 1: SIDEKICKS TPB
This, I've been hearing a lot of buzz about, and it's enough to get me interested in a fifteen dollar trade. Don't really know what to expect, but I'm curious to see what the fuss is all about.
DC COMICS
MAN-BAT #1
Passed this over when I first looked at the solicit, but then I saw Mike Huddleston's name and stopped. It's just $2.50, and it's got an artist whose work I really enjoy, so I think I'll try it out.
SUPERMAN/BATMAN #26
I might get this just because I'm curious how the hell they got 11 writers into 40 pages.
LEGION OF SUPER-HEROES VOL. 2: DEATH OF A DREAM TP
This is where the book's gonna get really awesome in trade form, for those who're waiting. I've been enjoying the book a lot lately.
DMZ #6
So far, I'm really enjoying this. Is it the start of a great new Vertigo epic? There's certainly a beginning-middle-and-end sort of thing implied in the premise, but with enough space to make it a really big story. At any rate, I'm looking forward to seeing things ramp up.
LOVELESS VOL. 1: A KIN OF HOMECOMING TP
Sounds good to me - ten bucks for five issues. I'll give it a shot, absolutely. Azzarello writes better in big chunks anyway.