Silent Dragon and Flak Riot: I'm in a colorful mood
Before I get into the comic pimping, which will be short tonight because I'm working on some longer pieces for early next week, I'd like to point out for my fellow San Franciscans a fine bar I've been spending some time at this week. It's called
Dave's
. It won "Best Totally Unpretentious Bar" from
SF Weekly
in 2003; here's the write-up they gave it:
Where can you get a hot dog with everything and see good art? Where can you order a top-shelf margarita and settle in for a good read? Where do people always look relaxed and happy? Why, at Dave's, of course. Walk into Dave's, and no one looks up to see what you're wearing. The 'tenders are friendly, the jukebox is good but never turned up loud enough to drown out conversation, and the food is delicious and not fried. The place has some TVs, but watching sports isn't an overwhelming force, just there if you want it. Dave's is a bar that has no image problems, a bar that likes itself just the way it is, and therefore it's a bar that likes you, too.
I've been digging on their sandwich combo special: a sandwich, a side, and a pint of anything on tap for nine bucks. I get a turkey garlic pesto sandwich with some black bean chili and a Guinness, and it makes me happy. It's also cool because there's sort of an interesting day crowd - it largely seems to be union guys taking off from work to sneak to the bar. Gives the place some nice atmosphere.
Dave's is at 29 Third Street, just off Market. You should go there.
So, the comic pimping. Two things.
One. You know the images I posted yesterday, from
Silent Dragon
? Y'see how they're really detailed and how cool that looks in black and white, and how it's the kind of art you usually wish would
stay
in black and white because the colors would obliterate the detail and ruin the art? Don't fuckin' worry about it. They got Dave Stewart. Yeah, the guy I was pissing my pants about in the Conan review. Dave Stewart is a genius and a hero. This is the most beautiful new book I've seen in months. Diggle's script is pretty good - he relies on stock lines like "Since the moment I first saw you" a little too much for my taste, but he's got a fun premise going on with sharply defined characters and he's really been impressing me with his ability to write to his artists' strengths.
Two.
Flak Riot #1
(of 4). This one's about six or eight weeks old, so you'll have to do a bit of looking to track down an issue, but I was just flipping through my
Flight
trade and remembering how struck I was by the artwork on that puppy. The premise is fairly by-the-numbers, a classic fish-out-of-water story about a young lady bored with her hum-drum workaday life who suddenly finds herself in an outlandish struggle for the fate of the world, with an endearing mad scientist and a funny robot and such, but it's scripted with some respectable verve and the art is absolutely stunning - especially Mike Garcia's colors. As so: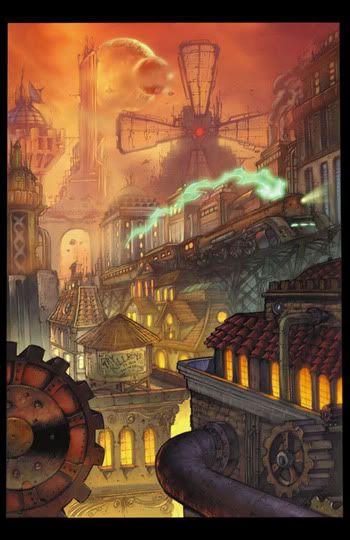 There's a
five page preview
on the Image website for those interested in checking out more of this, and the Diamond order code for issue #1 is APR051659.
I really enjoyed it and I'm looking forward to more.
P.S. - There should be a feature going up on
Bookshelf Comics
very shortly featuring the staff's picks from the October solicits. I got to make two picks, and I'm really excited about both of them, so take a look into the future with me, won't you?