Linky
Joe Keatinge
is taking over
writing an ongoing Image book. What book is it? We're waiting on the press release. But drop him an e-mail and he just might tell you.
I'm psyched as shit. GO JOE!
*****
Jason Rodrigues
tells the story
of how he managed to get one of his dream writers on
Postcards
.
Harvey Pekar sounds like a cool guy.
*****
Happy belated
birthday wishes
to Jared, the Isotope's gentle-giant Enforcer.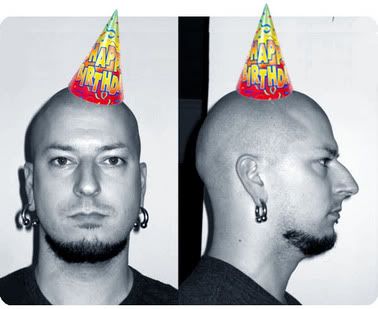 I felt the tremors, but most of the city still seems to be standing. He has spared us again, in his mercy.
*****
Wanna tell Marvel what to do? Well,
the trade department is asking
what stories we'd all like to see in the "Premiere Hardcover" format. As a general rule, I think that format is bullshit, but they're talking about classic stuff, like the upcoming re-collection of
Spider-Man: Kraven's Last Hunt
, all chock-full of extras and stuff, which is a whole 'nother story.
First on the chopping block, judging by its inclusion in nearly everyone's list so far, should be the Miller/Mzzuchelli classic,
Daredevil: Born Again
. It'd make a nice companion book to the
Batman: Year One
hardcover, don't you think?