Pre-Order Urger: Fragile Prophet
Fraghile Prophet
is getting some hearty attention. You'll remember of course that I called the book
Best In Show
for this year's Alternative Press Expo, and it's also recently been reviewed by
AICN
for the "Indie Jones" column and
Elk's Run
writer
Joshua Fialkov
.
Turns out it's in solicitation for August release, with
Diamond order code Jun06 3245
. It's a mere ten bucks and a steal for the quality of the story, artwork and production value. It's also being put out by an independent publisher,
Lost In The Dark Press
, so do your comics warrior duty and lay in a pre-order with your local retailer to make sure you get a copy.
Also, incidentally, I found an
old Newsarama interview
with artist Stephen Buell and some slammin' artwork from his first book,
Video
. Observe (larger at link):
*****
Fialkov is also over at
Newsarama today
, talking a little about the glorious ressurection of
Elk's Run
.
*****
I promised some thoughts on
Umbra #1
, the first of a three issue mini-series by writer Murphy and artist extraordinaire Mike Hawthorne.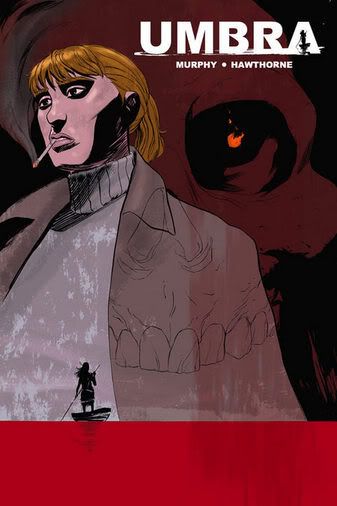 I had no idea what it was about going in. Now I know it's a crazy investigative murder mystery (the victim is literally a neanderthal with a soviet bullet in its spine) with some really awesome plot points and some interesting characterization. Hawthorne's art is wryly subdued here, though I'm told the violence and action ramps up next issue.
How good is this? Even Graeme McMillan liked it. His
Pick of the Week
, in fact. His comparison to Rucka's
Whiteout
is pretty sound. I don't really have a lot to say that he didn't cover, but wanted just to give a quick shout-out to a really solid new book. Looking forward to more of this.