...Batman's head on a lance
I have lied to you. There is no discussion of Batman in today's post.
*****
Matt Fraction gets all pissed off at Chet Presley in
this fine YMB interview
, and also discusses wrasslin' scenarios and other things litrary.
Really, it's a pip. With
Casanova
launching today, the timing is perfect, as well.
Can't wait.
*****
X Isle #1
is out today (
seven-page preview
up at Newsarama, incidentally) and it's a fun read.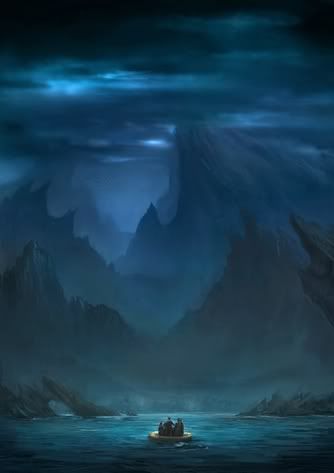 It's a fairly familiar concept - researchers at sea end up in a mysterious lightning storm that sinks the ship and lands them stranded on an even more mysterious island - so the emphasis here is on execution. And a few wobbly lines of dialogue aside (nobody should really be
paid
for writing, "I just wish for once, you'd stop being Dr. Keller and start being my dad," right?) the execution is great. We're given solid, interesting introductions to at least six major characters who all get at least one spotlight moment, the ambient creepiness I've come to expect from writer Andrew Cosby, the breakneck rollercoaster pacing I've come to expect from co-writer Michael Alan Nelson, artwork from Greg Scott that balances a sly realism for the characters and facial expressions and a more shadowy style for the elements that need it, and a cliffhanger ending that ties into the curious research these scientists were pursuing in the opening pages of the issue. Tight, enthusiastic work from everybody, and I'm excited to see where this will be going.
*****
Ed Brubaker talks about his upcoming Sean Phillips collaboration,
Criminal
,
also at Newsarama
. I can't think of anybody at Marvel more likely to really explode the creator-owned ICON imprint, and given how much I loved
Sleeper
(maybe the best comic I've read since I came back to the form) I'd say it's safe to call this my Most Anticipated Series Of 2006.
Really, I'm off my nut for this one.
The link also includes a 5-page PDF of the "trailer" Ed and Sean put together, which is a fun read.