Buddy Guy's Sweet Tea: Blues to scare the hell out of you
Holy shit.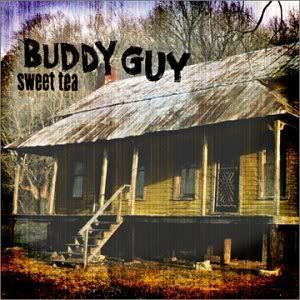 Picked this up on kind of a whim at Amoeba the other day. I remember having read that the album was more rootsy, porch-stompin' in the swamp blues than Guy's usual blazing Chicago guitar style, but I had no idea what I was getting into.
What Buddy Guy is playing on
Sweet Tea
is, without question, the scariest, darkest, heaviest blues I've ever heard in my life.
I'm used to hearing Guy sound like kind of a pimp; "You're damn right I've got the blues!" he'd scream, then he'd launch into a lightning solo and I'd tap my feet and bob my head and it was easy to imagine panties flying up to the stage. There are a lot of guitar heroics here, to be sure, but the opening song sets the stage with a drastically different tone - "Done Got Old" is a bare, low song, Guy's voice creaking out musty and cruel, damning himself because he "can't do the things I used to do." You can feel the age in his breath - it doesn't sound feeble (far from it, this is powerful singing) but you get the image of rotting leaves and dead, crooked trees in the swamp. It sends a shudder down the spine, and when he follows it up with "Baby Please Don't Leave Me", a huge electric dirge, there's a sense that the apocalypse is coming. It doesn't let up, either.
The solos are all still here, and they're really impressive - more so, really, because the context is completely different. There's no night club groove, but the wild licks fit in anyway, sounding more chaotic and dangerous as a result of the new setting. Metal fans who've gotten interested in the blues but don't know where to start will find a lot here to like.
This is definetly not for every mood, but Jesus, it's amazing.