Zombie Tales: The Dead and plenty more
Didja know I'm at 168 posts? Jesus... I totally missed my "anniversary" at 100... well, no time for sentimentality, let's just get this going.
*****
We've all been keeping an eye on Boom! Studios over the last several months, yes? I reviewed one of their first books,
Zombie Tales #1
,
back in June
of last year.
Tomorrow brings the latest installment in this unusually solid anthology,
Zombie Tales: The Dead #1
, and I've had the good luck to get an advance copy to check out.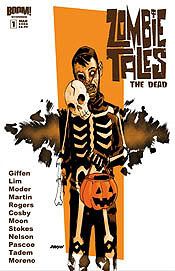 Like the first one, this book features sweet Dave Johnson cover art, a perfect-bound spine, and a swell line-up including some well-established talent (Kieth Giffen, Ron Lim), but this time out the focus is more and more on those creators that, largely through their work with Boom!, are
becoming
established.
Michael Alan Nelson, for example, is quickly becoming a "name" writer for me. His story in the first
Zombie Tales
was a highlight of the book, and I thought the first issue of his recently launched
War of the Worlds: Second Wave
was excellent
. His story, "The Miracle of Bethany", opens this volume, with a really fun and intriguing take on the "original zombie" concept. It's more an idea than a story, but in this setting that works.
Giffen and Lim's "Deadest Meat" is a more satisfying collaboration for me than their work in the first Zombie Tales. Giffen plays with the narration, which is first-person in the voice of a zombie whose brain is quickly decaying. It's a concept that got me interested in Speakeasy's
The Hunger
, though I never got to check out that series (the creators promise an upcoming trade collection that I will surely buy), and it's a lot of fun here. Ron Lim's gorgeous lines take on a somewhat more painted look with the able coloring work of "Rans of Imaginary Friends", whose hand is in most of the stories in this collection. I wish the fucker would just use his (her?) name instead of doing the Madonna, but good work is good work. He brings a different tone to each of the stories, which is a nice testament to his talent in a thematically consistent book like this one.
Johanna Stokes grabs my attention as a writer with "Zoombies", which drops us into the middle of the story of zoo animals collaborating to escape the coming zombie onslaught and puts them through their tragic paces. Each of the animals is given strong characterization in a very short span of time, especially the elephants and the lions. My favorite line of dialogue: "When you know better, you do better." It's all drawn with a soft-spoken gusto and personality by Cynthia Martin, and colored by Pamela (
Preacher
) Rambo, and the team gives a nice vibe to the whole scene.
I was intrigued by writer Jim Pascoe's concept for the story "A Game Called Zombie", but the last few pages left me confused. Could have something to do with the artwork by Don Simpson and Chris Moreno, could be the scripting - I really can't tell. But something felt unclear.
"Four out of Five" by writer John Rogers and artist Ed Tadem runs about three pages too long, but takes a fun look at the zombie concept and has a pretty funny punchline.
Andrew Cosby (whose
Damn Nation
mini from Dark Horse I really dug last year) brings his "I, Zombie" three-parter to a close here, with artwork from Fabio Moon, who grabbed us all by the balls with his work on
Smoke and Guns
. Seeing his work in color here is another revelation, and he seems to be improving with every page. I'm startled by what a talent this fellow seems to be, and the action shining off the pages here is really impressive. I'm missing part of the story, having not read the second installment, but it doesn't really hurt anything. This is about atmosphere, action, and a little grossout humor, and it brings all those things.
Enjoyed this thoroughly, I did. I'll be looking to track down the second
Zombie Tales
book,
Oblivion
, to complete the set.
*****
I was surprised. After reading the
Annihilation: Prologue
, which leads into Marvel's four upcoming four-issue mini-series (which
then
tie back into a single six-issue mini), that I was now most interested not in the
Silver Surfer
mini but the
Nova
one.
Marvel seems to've picked up the hint. There's a three page printed preview of the first Nova issue in Marvel Previews and now there are
five pages up at CBR
.
Hey, this whole thing could still turn out to be a screwjob, but it's been long enough that I'm happy to see Cosmic Marvel back for now.
*****
It's not the kind of thing I'll be downloading, as I'm pretty much already sold on this book and I don't want to spoil too much for myself, but if you're on the fence about Matt Fraction's upcoming Five Fists of Science OGN, take a look at the
22-page preview PDF
he's got on his site. The preview's in black-and-white to reduce the size of the file, but the printed product is full color and I've seen enough of it (thanks, Lar!) to tell you it's fucking awesome.
*****
After my
excited-with-qualification review
of the
Continuity
preview
last week, writer Jason McNamara dropped by to offer a response:
Thanks for the kind words for Continuity. You can rest easy knowing nobody holds their head and has meaningful drug induced visions in my book. They might destroy their home towns and kill their parents but I promise it's not in a meaningful way. I leave "meaningful" to the educational institutions and "drug induced visions" to pro's like Oliver Stone and Grant Morrison. My book will however kick you up a flight a stairs and put blood in your stool. In a good way.
I likes me the sound of that. Looking forward to picking this one up.
*****
It's been a while since I
dropped in
on world-conqueror Rob Osborne (though I've discussed his work a
number
of
times
), but I see he's almost ready now to drop The Nearly Infamous Zango on us, in a
website exclusive
.
Homeboy's been working on this one for a while; I'll be psyched to check it out.