Elk's Run: What a town without pity can do
Loyal readers will remember my hugely enthusiastic advance review of
Elk's Run #1
from all the way back in
March
, but we stand on the edge of a glorious new day for the series and it's just possible that some of you folks are new and might be missing out on the series.
Well, issue #3 came out last Wednesday, marking the last issue of the series that will be totally self-published before the move to Speakeasy in October. Given that Speakeasy will be publishing a "Bumper edition" collecting the first three issues before moving on to print issue #4, I thought today would be a good day to take a look at issue #3 and see how the series has progressed since its promising debut.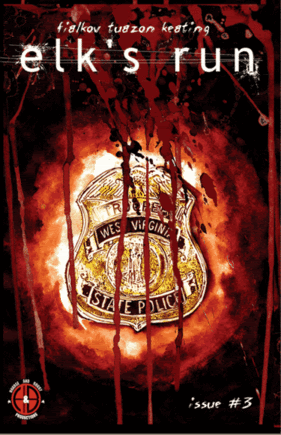 To briefly recap: the series follows a family living in Elk's Ridge, an isolated mining town in the south. The mine has long since collapsed, and the townspeople have stayed on, building their own insular community and developing into what we learn is essentially a militia with a war on its collective mind.
Each issue so far has concentrated on the perspective of one of the family members; issue one focused on the teenaged son, issue two the Vietnam veteran father, and issue three looks closely at the mother.
Until now, the series has been on a slightly slow boil, building a sense of perspective and a connection to the characters - teaching us why they approach the plot developments the way they do. The son is very much a product of his age and upbringing, good hearted and afraid; the father wrestles with his guilt over losing brother soldiers in 'Nam and his need to protect his family - one of my favorite lines of issue two was his belief that "Revenge, when it's done properly, doesn't feel good. It feels like you're getting your guts wrenched out." We learned that this is a conflicted man who will not acknowledge his conflicts, because to buckle in such a way will endanger his family. He's a terrifyingly violent man, and certainly doesn't seem to be the hero of the piece, but we can understand where he's coming from.
Josh Fialkov's script this issue not only amps up the action of the story, with a vital plot point ramping up the urgency and bringing things towards a boil, but also introduces the first real
mystery
of the story - the mother.
She's a powerful force in Elk's Ridge, dominating the women around her and even showing a surprising measure of control over the father, and we see bits and pieces of her perspective, but much of her presence is created strictly in the artwork; she doesn't get a lot of expository dialogue or history - we simply see her dealing with the impending crisis and responding to the members of her family. Wry facial expressions and terse, protected responses to those around her.
So it's "show" and not "tell" with this one, and it's a striking twist on the storytelling. It's been observed elsewhere that this is largely a horror story, meant to terrify us with the implaccable force of mob violence and the darkness that can enter the hearts of devoted family men. While this is a sharp observation, I think this issue adds another ingredient to the pot and it's a good fit -
Elk's Run
has, from the first issue, been about approaching things from multiple angles, so using sotrytelling tools from different genres makes sense, and suits the story itself rather than simply engaging in the excercise of genre mashups.
The art remains sharp and smartly suited to the story, as well. Artist Noel Tuazon and colorist Scott A. Keating create a moody, slightly sketchy tone on every page, and the roughness of it creates both a subtle level of intimacy (as if the story were being told to you as a fellow member of the community) and an unnerving tenative quality, a tenseness that feels thick and menacing. We've already seen that the payoff to this tension is effective and frightening, per the mob actions in the first two issues, but this issue (again pursuing a show-don't-tell style) restrains the violence to off-panel, building towards what is sure to be a series of terrible events to come in the tale.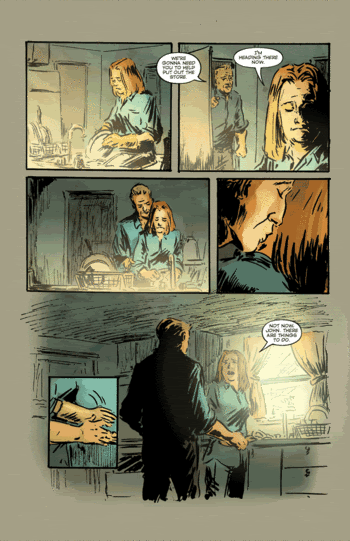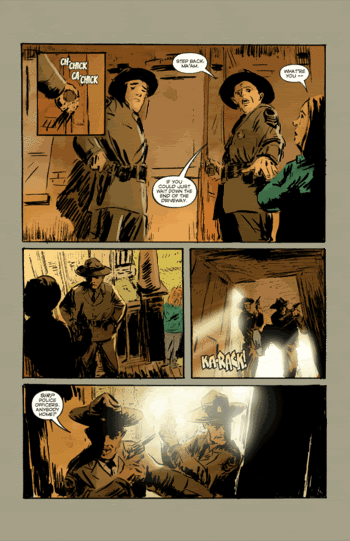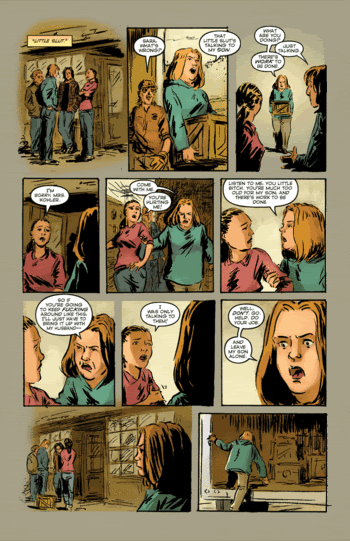 This remains one of my favorite indie books on today's market, and I encourage anyone who's missed out so far to catch up with the "Bumper Edition" being released by Speakeasy in October. It will collect the first three issues, along with bonus material and an introduction by Steve Niles, for a bargain price of $7.99. On top of that, Darwyn Cooke has proferred a special cover for the collection, which is just gorgeous: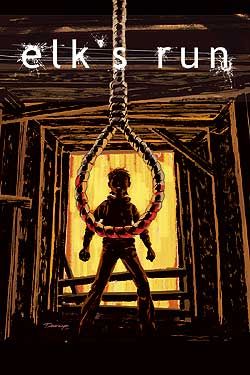 The Diamond order code for October's Bumper edition is
AUG053101
and for issue 4 (coming in November) it's
SEP053086
. You can also read the entire first issue for free at
Newsarama
, if you're the frugal type.
Give this one a shot. It's well worth your time and your coin.
And remember - pre-ordering from your retailer is good for
everybody
. It helps your retailer figure out his or her orders with less guesswork, ensuring that he or she will have a better stocked store. It gives the publishers better information on which to base their print runs, which is absolutely critical for small press. And it's the only way to guarantee that you'll be able to nab a copy of what you want. So, engage in a little comics activism - make the industry a better place for us all and pre-order books you know you want to check out.