Revisionary: Lovely visions of an ugly future
One of a number of cool first issues I've been trying out lately (Jesus, is there something in the water?), Revisionary #1 launches the series written by Paul D. Storrie and drawn by Eric J, and published by
Moonstone
.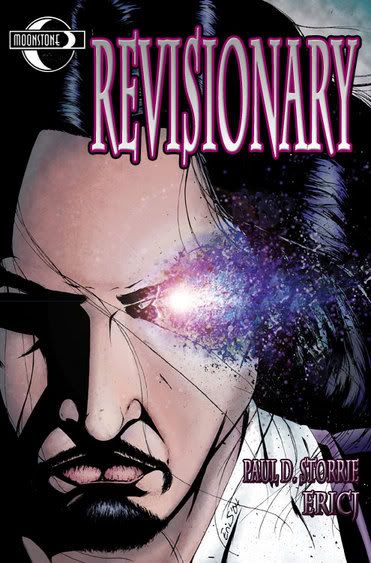 The tagline at the Moonstone website is "Having visions of the future is no guarantee that you'll live to see it." The book is about a guy who stumbles onto psychic fakery as a way of making some extra cash and ends up wildly successful at it; he's a douchebag slacker who takes advantage of people's need for answerss (a la
John Edward
) and ends up finding trouble as a result. There's a supernatural creepiness that gets introduced, but it's not too dominant an element; it balances well against the noirish crime angle the series is playing with as our anti-hero eventually finds himself in Las Vegas surrounded by people he knows he can't trust. It's a well-paced story with some clever characterization and an intriguing cliffhanger - I'll definitely be back for the second issue.
The big draw, however, was not the script but the artwork. I know Eric J's stuff from his time on
Rex Mundi
and his shory story with Todd Livingston in
Western Tales of Terror #2
. I loved his work on those books, and he delivers with matching quality here. It's also nice to see his stuff in glossy black and white; lends a new angle to the style, and one that complements the content of the book perfectly.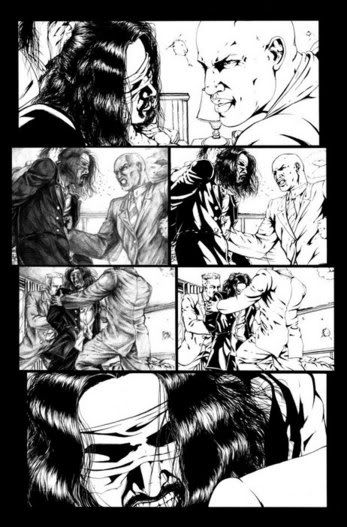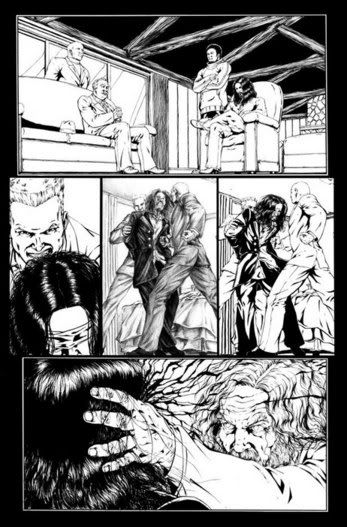 I wasn't able to find much in the way of preview material on the Moonstone website, so I ended up tracking down
Eric J's site
, and it's worth taking a look if you're at all interested. He's got a lot of preview material up for
Revisionary
(scroll about halfway down the main page, he's got several pages from the first two issues), lots of other gorgeous artwork, and an interesting entry up at the top right now; he's considering the whole notion of artists "selling out," and describes a recent epiphany:
ANY ARTIST THAT HAS EVER ACTIVELY DISPLAYED THEIR ART FOR ANOTHER PERSON'S PERUSAL, MUCH LESS HAS ACTUALLY SOLD ANYTHING, WHETHER IT BE A HOME MADE POETRY BOOK, A PAINTING, A DIY OR MAJOR LABEL CD, WHAT HAVE YOU, HAS ALREADY SOLD OUT. FLAT OUT, THERE IS NO ARGUMENT, THAT'S IT. THE ARTIST SHOWED PEOPLE THEIR WORK SEARCHING FOR APPROVAL AND VALIDATION, THERE'S NO OTHER REASON TO BRING IT OUT OF THE CLOSET OTHERWISE.

To which I can only respond,
amen
.
And, yeah,
Revisionary
- it's pretty good. I'm looking forward to more.