Great Crapper Comics, Day One: Duration
Ladies and gentlemen, welcome to my first theme week here at Quality Control. I'm inspired, as ever, by the illustrious Mr. Jason Rodriguez, who's been using this highly sophisticated blogging technique recently.
And I'm thinking about how this blog is all about comics I enjoy, and realizing I've lost my way a bit. The comics I write about - great as they all are - I'm writing from a heady sort of place, curled up on the couch with an hour to spare or getting lost in a story while riding the bus, missing my stop and having to get off and grab one going back the other way. Really involved stuff, y'know? And I love it. Because that extra bus time means I get to read even more.
But there's a whole other way that I enjoy comics. And given the header for this entry, I bet you've guessed it. Yes, that's right. Like all great Americans, I love to read comics while sitting on the crapper. And this week, I'm gonna go through some of the criteria we can use to judge the very best crapper comics. At the end of the week, I'll give out some awards for those comics that lead the loaf-pinching pack.
Today's category is
Duration
. Now, I'm a man who likes to linger on the can. I've been known to spend an hour at a time in there, reading whole trades of
Preacher
in one sitting, so to speak. But there's not always time for that, and I'm not even always in the mood for it, and most people probably don't really enjoy spending that much time wallowing in their own filth anyway. So the primary concern of Duration as a crapper category is that the comic be one you can pick up, read for a few minutes and put down with a satisfied, empty-bowelled smile on your face.
Anthologies are good for this, though it's often hard to find anthologies with anything like consistent quality. I've recently been enjoying my purchase of the
Negative Burn: The Best From 1993 - 1998
collection, packed as it is with cool stuff from Evan Dorkin, Alan Moore, Phil Hester, Paul Pope and more, but I've also been digging on books like
Flight
and
Western Tales of Terror
.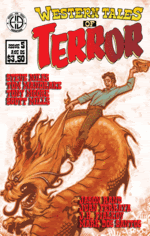 Some comics creators put a lot of effort into making their stories readable in small chunks, either with short chapters or self-contained issues. Books like
Usagi Yojimbo
and
Hellboy
(especially the
Right Hand of Doom
trade) are really easy to pick up and enjoy for just a few minutes at a time.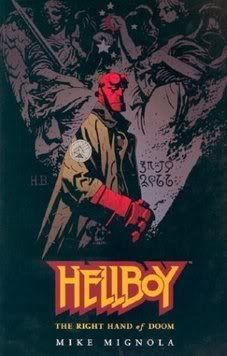 Of course, there are actual comic strips, which can be read for any length of time, from five seconds to five hours (if you have enough material). My favorites are Bill Watterson's
Calvin And Hobbes
(natch) and Berke Breathed's
Bloom County
(and its successor,
Outland
, though that was never quite as funny). There's a whole argument to be had about whether these "count," but I don't give a shit about that. They're good and they're on the list. If you don't like it, you can blow it out your ass.
Tune in tomorrow for the next category. And feel free to drop your own nominations for consideration.
Onwards!