Fatlip: The Lonliest Punk is back!
Holy crap, I'm so excited about this! I know
The Goon
and
Conan
and
Stray Bullets
came out this week but even they can't compete with how psyched I am that
Fat Lip has returned
.
If you've ever listened to The Pharcyde, you know who I'm talking about, but if you've watched the
Spike Jonze music videos DVD
you know even better - several years ago, after being kicked out of The Pharcyde, he made a music video for a single called "What's Up Fatlip?", an awesome rap about being an "immature, insecure grown up nerd, has-been MC on a label that's unstable," the likes of which I'd never heard before. Rappers can be self-deprecating? They can talk about feeling low, and make it funny without the "just kidding, I'm a pimp" wink?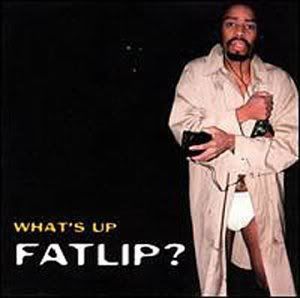 Seriously, I'd never heard anyone rap like that, and I loved it. His style was great, too - nice and old school. Great jangly beat. Then it seemed like he dropped off the face of the earth, and it was kinda depressing. Did he really give up like that? Did he really get chewed up and spit out like he feared?
Well, maybe for a while. I don't know what happened. But I
do know
that Pitchfork Media
told me this
:
Long-Delayed Fatlip Album Coming in November

Zach Vowell reports:
Former Pharcyde MC Fatlip has been tantalizing us with rumors of a solo album for quite some time now. Such a record became even more necessary after a Fatlip-less Pharcyde lineup released a lackluster effort last year, the group's first record since 2000. Now, after years of scattered singles and months of moving-target release dates, Fatlip's label Delicious Vinyl has announced that the L.A.-based rapper's Theloneliest Punk LP will be released on November 1. The album's 18 tracks include contributions from Jurassic 5's Chali 2na and from kindred P-funkin' soul Shock G/Humpty Hump of Digital Underground. The set will also include a bonus DVD featuring a Spike Jonze documentary covering Fatlip's life from his Pharcyde departure to the making of Theloneliest Punk. A nice gesture, sure-- we loved Jonze's video for "What's Up Fatlip?", in which Fatlip hung out with his mom and then got kicked in the nads by a small child-- but fans will likely only be appeased by hearing these songs:

01 Fat Leezy
02 Fatlip Intro
03 First Heat
04 The Bassline
05 Today's Your Day
06 Freestyle
07 Joe's Turkey
08 I Got the Shit
09 Writer's Block
10 M.T.A.
11 The Story of Us
12 Cook
13 Walkabout
14 All on Fly
15 Lyrical Styles
16 Freaky Pumps
17 He's an Outsider
18 What's Up Fatlip
19 Dreams

Leading up to the album's release, Fatlip will tour throughout the country, with more dates to be announced soon. A finer analgesic for Theloneliest Punk's delay we cannot imagine. Dates:

10-05 Albuquerque, NM - Moonlight Lounge
10-06 Durango, CO - Abbey Theatre
10-06 Denver, CO - TBA
10-08 Lawrence, KS - Gaslight Tavern
10-09 Columbia, MO - Mojo's
10-11 Bloomington, IL - Rhino's
10-12 Cincinatti, OH - Top Cats
10-15 Richmond, VA - Nanci Raygun
10-17 Baltimore, MD - Sonar
10-19 New York, NY - Rothko
10-20 Portland, ME - The Asylum
10-22 Providence, RI - Living Room
10-24 Pittsburgh, PA - Garfield Artworks
10-26 Chicago, IL - Abbey Pub
10-28 Urbana, IL - Illini Union Courtyard Café
11-01 Seattle, WA - Rainbow
11-03 Portland, OR - Greek Cuisina
11-04 San Francisco, CA - Milk Bar

* Delicious Vinyl: http://www.deliciousvinyl.com

Well, I sure as to fuck know where I'm gonna be on November 4th. The Milk Bar is that DJ club across the street from Amoeba Records, right?
The Delicious Vinyl website has preview MP3s of "
Today's Your Day
" and "
Joe's Turkey
", and three or four more on his "Artists" page.
And honestly, that title's clever as hell. Given his fondness for old school, jazzy beats, a Monk reference is nice and fitting, too.
It's a time to celebrate, oh yes.